Waste Management Services
Collection & transportation
In order to solve the important environmental problem of waste utilization, we undertake the collection, transhipment and transportation of solid non-hazardous waste from Municipalities and private companies of various industries, based on the European Waste Catalogue (EWC).
The process of waste collection and transportation takes place in stages. Initially, our specialized engineers visit the site and provide consulting services on waste management. Then, depending on the area and the characteristics of the loading point, different collection practices are used. By having the possibility of integrated waste management, we meet any need for collection and transportation, using our owned fleet of vehicles and machinery.
The collection and transportation of solid non-hazardous waste takes place at the following regions of continental Greece:
EASTERN MACEDONIA AND THRACE
ATTICA
WESTERN MACEDONIA
EPIRUS
THESSALY
CENTRAL MACEDONIA
PELOPONNESE
CENTRAL GREECE
Receipt & Management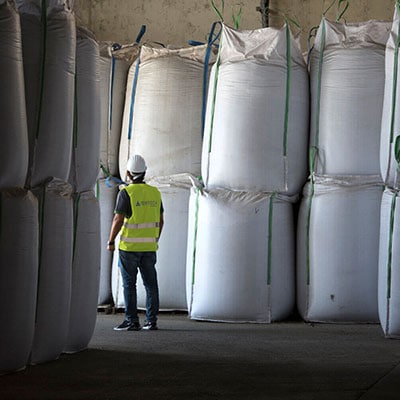 Then, our experienced team undertakes the collection and management of solid non-hazardous waste from Municipalities and private companies of various industries, based on the codes of the European Waste Catalog (EWC).
Thanks to the privately owned fleet of machinery and trucks, that we have at our disposal, we receive waste from the following industries according to the European Waste Catalog * (EWC).
01 WASTES RESULTING FROM EXPLORATION, MINING, QUARRYING AS WELL AS PHYSICAL AND CHEMICAL TREATMENT OF MINERALS
02 WASTES FROM AGRICULTURE, HORTICULTURE, AQUACULTURE, FORESTRY, HUNTING AND FISHING, FOOD PREPARATION AND PROCESSING
03 WASTES FROM WOOD PROCESSING AND THE PRODUCTION OF PANELS AND FURNITURE, PULP, PAPER AND CARDBOARD
04 WASTES FROM THE LEATHER, FUR AND TEXTILE INDUSTRIES
05 WASTES FROM PETROLEUM REFINING, NATURAL GAS PURIFICATION AND PYROLYTIC TREATMENT OF COAL
06 WASTES FROM INORGANIC CHEMICAL PROCESSES
07 WASTES FROM ORGANIC CHEMICAL PROCESSES
10 WASTES FROM THERMAL PROCESSES
12 WASTES FROM SHAPING AS WELL AS PHYSICAL AND MECHANICAL SURFACE TREATMENT OF METALS AND PLASTICS
17 CONSTRUCTION AND DEMOLITION WASTES (INCLUDING EXCAVATED SOIL FROM CONTAMINATED SITES)
19 WASTES FROM WASTE MANAGEMENT FACILITIES, OFF-SITE WASTEWATER TREATMENT PLANTS AND THE PREPARATION OF WATER INTENDED FOR HUMAN CONSUMPTION AND INDUSTRIAL USE
20 MUNICIPAL WASTES (HOUSEHOLD WASTE AND SIMILAR COMMERCIAL, INDUSTRIAL AND INSTITUTIONAL WASTES) INCLUDING SEPARATELY COLLECTED FRACTIONS
At the end of every year, a reception protocol is issued for collection and it is declared in the Electronic Waste Registry.
Showcase Video Presentation
With more than 30 years of experience in the construction sector, the group is dynamically developing in the Greek and international market, undertaking hundreds of high quality projects, such as industrial buildings, environmental, sewerage and plumbing, residential buildings, sports facilities and road construction projects.
What can we do for you?
Quick answers to the most popular questions

Yes, we undertake the elaboration and support of all the required studies regarding the operation of industrial units, such as studies for the issuance of installation and operation licenses, fire safety studies, wastewater management studies, techno-economic studies.

The construction of the projects includes the execution of the works of electromechanical installations, air conditioning - ventilation, fire detection - firefighting, sewerage - water supply, as well as the configuration of the surrounding area.

In the field of anaerobic wastewater treatment, we use Memthane® technology, developed by Veolia Water Technologies' subsidiary BIOTHANE. Memthane® technology offers a significant reduction in overall operating costs compared to conventional technologies, while producing high energy biogas (methane biogas production rate of up to 65%), which can replace fossil fuels.

We undertake the collection and management of waste, such as:
- Solid non-hazardous industrial waste
- Municipal solid non-hazardous waste from water-supply and sewage enterprises
- Waste of excavations, construction and demolition (CD&E) from public and private projects
- Pruning and other bulky waste
Did not find the answer you need?