Waste Management Facilities
FERTECH PRODUCTION unit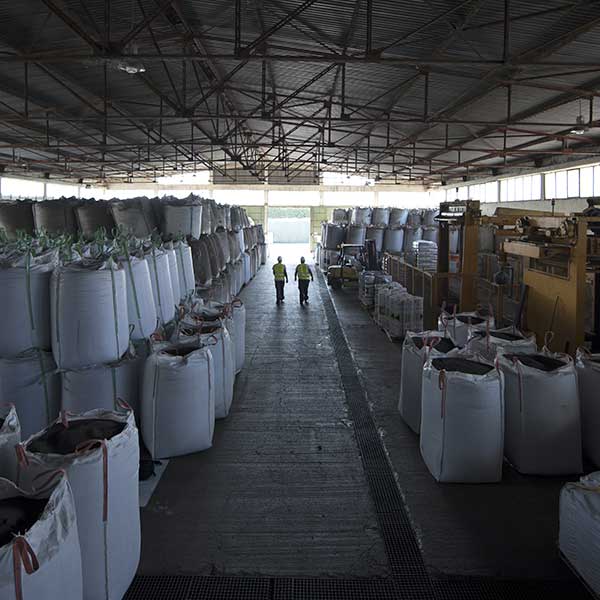 In 2009 FERTECH PRODUCTION is founded. A high-tech, pioneering production unit of the TEDRA group, specializing in the field of organic waste management, with the main business mission being the production of organic and organochemical fertilizers. The privately owned factory with a total area of ​​5,500m2 is located in Plati, Imathia, where the wastewater is treated and reused. These are modern facilities, equipped with cutting-edge machinery and advanced production processes, assured with the necessary quality standards. Every year, we receive and manage 15,000 tons of organic waste and continue dynamically, until we reach our final goal.
The production of organic and organochemical fertilizers is based on the recycling of organic matter (necessary for the soil), which is processed in the most modern way and enriched according to the type of product. Through a specific processing of biosolids, we produce organic fertilizers with a moisture content of less than 10%, while in cooperation with FERTILIS TRADE, we produce various types of organochemical fertilizers.
We also have an automated packaging unit and we pack the products in large sacks and sacks of 25, 30 and 40 kg.
Composting & CDE treatment unit
Since September 2021, an organic soil improver production unit has been operating with the application of series technology and excavation waste treatment, construction and demolition waste (A.E.K.K). The facility, covering a total area of 21,445 m2, is located in the Municipality of Elassona in the Region of Thessaly.
The main activities of the unit are:
a) Production of organic soil improver by the method of composting. More specifically, it is a method of management and natural recycling of organic waste, from urban wastewater treatment plants and specific industrial activities, through which waste is biodegraded without negative environmental impact.
b) Processing of A.E.K.K. (waste from excavations, constructions and demolition). The A.E.K.K. Processing Unit has all the required material and technical infrastructure to receive and process A.E.K.K., as well as to take care of their temporary storage. Our goal is to channel them to the most appropriate alternative management solutions and to reuse, utilize and recycle the collected materials.
Showcase Video Presentation
With more than 30 years of experience in the construction sector, the group is dynamically developing in the Greek and international market, undertaking hundreds of high quality projects, such as industrial buildings, environmental, sewerage and plumbing, residential buildings, sports facilities and road construction projects.
What can we do for you?
Quick answers to the most popular questions

Yes, we undertake the elaboration and support of all the required studies regarding the operation of industrial units, such as studies for the issuance of installation and operation licenses, fire safety studies, wastewater management studies, techno-economic studies.

The construction of the projects includes the execution of the works of electromechanical installations, air conditioning - ventilation, fire detection - firefighting, sewerage - water supply, as well as the configuration of the surrounding area.

In the field of anaerobic wastewater treatment, we use Memthane® technology, developed by Veolia Water Technologies' subsidiary BIOTHANE. Memthane® technology offers a significant reduction in overall operating costs compared to conventional technologies, while producing high energy biogas (methane biogas production rate of up to 65%), which can replace fossil fuels.

We undertake the collection and management of waste, such as:
- Solid non-hazardous industrial waste
- Municipal solid non-hazardous waste from water-supply and sewage enterprises
- Waste of excavations, construction and demolition (CD&E) from public and private projects
- Pruning and other bulky waste
Did not find the answer you need?